NOTICE
The site maintenance on ThePrizeFinder is taking longer than expected but we hope to fully running again soon. The competitions that you enter today might not be tracked. Sorry for the inconvenience.
By Esther J on Wed, 2010-07-14 20:00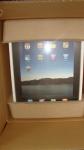 Last July, a month before the birth of my first child, I was sat at home wondering how I was going to fill my days when I stumbled across ThePrizefinder site. I immediately caught the 'compers' bug and spent my days entering competitions. I enjoyed it and felt like I was making good use of my free time. My first prize was a baby play mat which came in very handy with the new baby and gave me such an adrenaline rush because I wasn't used to winning things. I was well and tuly addicted from then on. Since then I have won many prizes but the best prize I have won is an Apple ipad which I won with Av Forums.
I have found myself a wonderful hobby that also pays brilliant dividends. My only regret is that I didn't start it a lot sooner as my new baby means that I can't devote the time to it that I would like to.