Quick note from Steve...
We're aware of some issues with the site not working properly on iOS (iPad or iPhone). Our team are currently looking into it.
By David Fuentes on Tue, 2012-01-17 18:21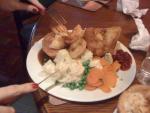 I have been entering comps now for a few years and have won a selection of wonderful prizes with theprizefinder.com being my go to directory for fabulous prizes both big and small.
I entered a Toby Carvery comp on theprizefinder.com and won!! :-) I was treated to a family meal for 4 at my local Toby Carvery, upto the value of £50, lovely jubbly.