We are carrying out maintenance on ThePrizeFinder during Tuesday and Wednesday. You will still have access to the site but there will be no new competitions during this time, and the competition tracker will not remember the comps that you've entered. Sorry for the inconvenience.
By David Fuentes on Tue, 2012-01-17 18:21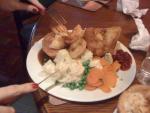 I have been entering comps now for a few years and have won a selection of wonderful prizes with theprizefinder.com being my go to directory for fabulous prizes both big and small.
I entered a Toby Carvery comp on theprizefinder.com and won!! :-) I was treated to a family meal for 4 at my local Toby Carvery, upto the value of £50, lovely jubbly.