NOTICE
The site maintenance on ThePrizeFinder is taking longer than expected but we hope to fully running again soon. The competitions that you enter today might not be tracked. Sorry for the inconvenience.
By Nicola Arch on Tue, 2010-09-28 19:54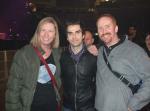 I won a prize from play.com to meet and greet the stereophonics, hotel, travel to London and a signed electric guitar.
I went to london with my husband and we went on the London Eye as our hotel was very near. In the afternoon we went to the O2 arena with 15 other people who had also won a meet and greet. I shook hands and hugged Mr Kelly Jones, but i was so excited, all I wanted was the signed guitar as i had promised this to my 10 year old son who is learning to play the guitar. I asked the rep and nothing, I was so disappointed. We went back to the hotel for something to eat and then off to the concert that night in the O2. The night was fantastic, but I had to phone home to tell my son, there was no guitar. We got back to the hotel at midnight and there was a message on my phone. There was a signed guitar in the 02 for me, but we had left. My husband spoke to the representative of the Stereophonics and within 30 minutes the signed guitar was in my hotel reception. What an end to a fantastic night, and when we got home, what a happy son I have. He is now playing learning to play his guitar in school. All for clicking on the Play.com banner. An excellent memory to talk about in a few years, all in my 40th year.